Post by Charistoph on Nov 20, 2018 16:14:59 GMT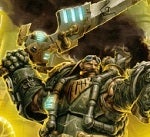 In Mk 1 and Mk 2 they were of that Faction, but could be taken as Mercenaries. In Mk 3, they are Mercenaries that can be taken as units in that Faction. Their cards list them as Mercenary units/warcaster.

Cain3 is is listed in the Mercenary Gallery, not the Cygnar, why is Blaize and the Precursors listed in the Cygnar Gallery and not the Mercenaries. Boxes are already messed up, and this was done LONG before anyone is suggesting making Cephalyx their own thing.

Partisan rules changed to be uniform across models in mk3, so that we didn't have "Cygnar that can be merc" as well as "Merc that can be cygnar". Everything became "Merc or Minion that is 'main faction' when taken in 'main faction' list". That is just bookkeeping.

It is also a terrible proxy for changing models from one faction to another. Cygnar players who buy Blaize didn't get a model they can't use, it just can also be used in Mercs. That's a happy realization, not a cause for anger. If a Merc player buys Cephalyx post "new faction", they have purchased something with their faction symbols all over it that cannot be played in that faction. That way lies customer complaints and refunds.

Could partisan packing be more clear? Sure. Is it causing problems? Only very slight ones in that it is hurting their sales slightly for players who don't know that they can field them. This in no way compares to a faction switch. It's like comparing cars where the clock radio comes set to military time by default and cars that are actually jetskis.

Then you are missing the point of the conversation.
The difficulty being spoke of in converting Cephalyx to their own mini-faction is already represented in these partisan models, and that is simply that they haven't done any work to change them on the site or in their packaging to represent where they currently reside.
A person who is new to the game and playing Mercs and hears about Blaize, Kayazy, or Idrians will look for them in the Mercs section, but they aren't IN the Mercs section in the online Gallery and, unless the store's stacker is on the ball, they won't be in the Mercs section of the wall. They will be in the Cygnar, Khador, or Protectorate sections as appropriate. So what you are complaining about already exists, so it would not be new to a Cephalyx mini-faction.

Everything else is in the cards, both on the Warroom and the Database, and those would be updated as appropriate.