Post by borderprince on Jan 18, 2019 5:41:32 GMT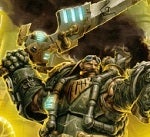 Thamar actively deals with Internals and encourages her followers to do the same.
In fact, from the wiki: "Infernalists of western Immoren deal primarily with a single infernal society called the
Nonokrion
Order. Among this Order, mortals may only negotiate deals with 'true' infernals called Curators and their even more powerful masters, the Executors."
(Bold for emphasis. Fiona's spell "Nonokrion Brand"?)
It's more subtle that that. Thamar encourages people to gain power for themselves. Dealing with Infernals is one way to do that. However:

(i) The IKRPG material makes it clear that many Thamarites do not deal with Infernals because there is too much chance of the Infernals getting the better end of the deal, which would be contrary to Thamarite teaching. So while Infernalism is acceptable to Thamar, it is just that acceptable, rather than encouraged. A Thamarite like d'Acosta would probably also reject it on the basis that it is bringing in outside help, rather than gaining power through his own skill, it would be 'cheating' as he puts it in one of the books.

(ii) It looks like the Infernal faction is about the Infernals coming to collect a debt owed to themselves. So not working for anyone else (like the Nonokrion Order), but on their own behalf. That is contrary to the reason Thamarites deal with Infernals. I can see some Thamarites being caught up in the faction for having tried Infernalism and ended up on the hook to Infernals, but those are Thamarites who have not practiced Infernalism safely, from a Thamarite perspective. In other words, they were not good at it. It's possible someone like Fiona mightbe a partisan on the basis she agrees to assist the Infernals, but Thamar is probably opposed to the Infernals here (remember that her actions were to protect humanity, albeit in the shorter term), so I'm not convinced.