Post by gobber on Apr 17, 2019 4:20:59 GMT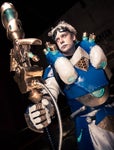 Also, the whole point of the Morrowan and Thamarite religion is that the twins are two sides of a coin. Benevolence and selfishness aren't mutually exclusive, and I think once Infernals present themselves as an existential threat to both sides of their religion we'll see a lot of unlikely allies popping up.
It would not shock me to see the list include lots of cygnaran options during development, but it would also not shock me to see Morrowan Khadorans as part of the theme as well. It would also not shock me if Cygnar was left out because Julius and Magnus's ambitions, and as a result the majority of the Cygnaran militaries priorities, do not line up with the Church's.
Where did you read that Stryker is no longer Lord General?
Up to the last published book he still was Lord General and Magnus was Major (that Stryker himself demoted due to the use of the chemical weapons against Khador).
Did they published someting new about that, or you just remembered wrong?
Stryker doesn't get along as well with Julius as it used to get along with Leto, but his Rank (barring new published material that I don't know of) didn't changed and he is still at the head of Cygnar military and totally loyal to it (a phrase said to convince Ashlyn of his good faith doesn't change that Stryker is a paragon Cygnar patriot).
Julius and Magnus ambitions putting them at odds with the church is something that is also not hinted anywere. Actually, Leto is still the first minister of Cygnar and Leto is still very close to the head of the church.
Also, as far as atrocities go, Khador makes atrocities an art (Doomreavers, the wipe of an entire city to kill Stryker, the same chemical weapons used by Magnus actually being deployed by Khador, Strakov trying to use a volcano to destroy a city to kill the resistance and cover his own tortures of the Crucible Guard head, ecc...).
The morrowan church joining forces with Khador instead of their historical ally (Cygnar) wouldn't make a grain of sense. Both because Khador is way more ruthless than Julius will ever be, and because there is no reason to do so (even more if Khador actually joines forces with Protectorate as it seems).
Honestly, all this "Morrowan Church should join Khador and not Cygnar" seem interely made up without any basis, just to try to justify a PP choice that is clearly against exstabilished fluff AND past marketing choices (shifting morrowan models from Cygnar models that work also with mercs to Merc models that also work with Cygnar) that created expectations in the customers.
Stryker promotes Magnus back up to Commander at the end of AoW2. He's not remembering wrong.
Sure, Stryker's a patriot but his loyalty is more to the concept of a goody-two-shoes Cygnar and its people than any individual political figure like Julius. His moral compass and Cygnaran patriotism are coming into conflict; he'll surely try to maintain both but his conversation with Ashlynn and doubts about Julius/Magnus suggest if he had to pick one, it'd be the moral compass. None of that is to say he's not patriotic; he seems to view it as his patriotic duty to follow his morals. It definitely doesn't seem like a empty reassurance to Ashlynn though: "'I will do all in my power to ensure Llael remains a sovereign nation, even if it means defying my king.' / And it will almost certainly mean that. Magnus' expression was inscrutable, dangerous." Two pages later he's worried about being removed from command if they proceed with the siege of Merywyn ("There was every chance Stryker would be removed from his command"), which suggests he might be in a tenuous position in the next book but is still managing to thread the needle for now.
Nobody's saying the Sancteum would join Khador and not Cygnar, you're misreading us again. Just that we may see Khadoran Morrowans join the Flame in the Darkness army/theme as there is a significant presence of that faith in Khador which we might finally see reflected in game. If they are going to do that, there is a sensible argument to keep Flame in the Darkness as a Merc-primary theme (and as I argued previously, give Cygnar its own separate Morrowan infantry focused theme in the future, potentially as part of an Order of Illumination release cycle or subfaction).