Post by paradox on Apr 4, 2018 21:38:02 GMT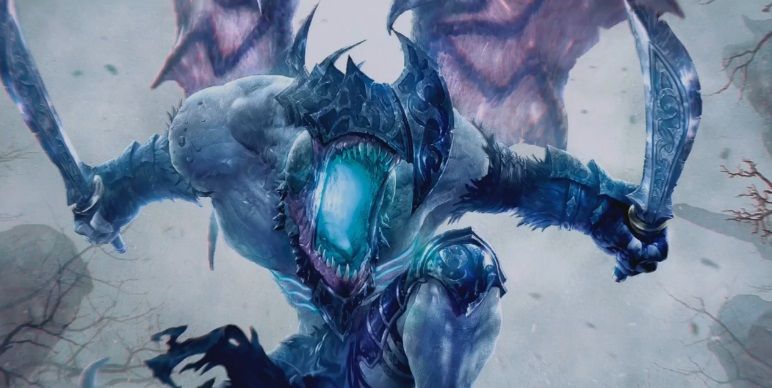 Cygnar gets another strong gunner solo, Khador an infantry buff/jack juicer, and Cryx more debuffs.
I mean Road to War is great with FOC5 to potentially load up two jacks especially coupled with Eye, but Mystic Wards seems like a dud to me. And loading up jacks would be kinda risky on a squishy solo.
I think you're really underselling how good Eye of Menoth on a stick is. Road to War is also good, as he as all the Focus needed to upkeep it and fuel two Redeemers, one of whom can help the other advance 3" and still aim. It's got uses. Mystic Wards is highly situational, but whatever. And a MA 6 Immolate that you can cast twice with a boost somewhere doesn't suck - especially if you went froggy and put Blessing in his BG so that it's now suddenly a MA 8 POW 15.
Hell, he's a potent combat solo in his own at MAT 7 P+S 14 with an 11" threat and 5 focus for attacks and boosting. You could throw a Vigilant somewhere funny and just use him that way.
He's going to shine in lists that like ranged superiority. Suddenly Malekus may be relevant. 
For me, his biggest downside is that he can't be taken with Sevy2, who he would help immensely. Oh well.
Regarding the other Journeymen:
Caine0 is hyper strong and probably the best. He can be taken in 3 of Cygnar's 4 theme lists. With only a week to test these guys, I'm not sure what changes he'll see, if any. I am not looking forward to Snipe on a stick, but I admit that Snipe is less relevant than ever because of how important strong scenario play is, which usually brings guns in range without Snipe. Trick Shot for free, though, can suck it.
Sorscha0 is a cool buff bot. I'm not a fan of KD immunity, but whatever Kreoss1 hasn't seen a ton of play recently.  Fog of War can be seen as analogous to Wrong Eye & Snapjaw, except relevant against range, less tilting, and easier to counter. Boundless Charge is amazeballs, but it leaves her distressingly low on Focus. And don't forget, she has to take a Warjack in a faction that lacks utility Warjacks. 
I thought Denny0 was ridonculous until it was pointed out to me that she cannot be taken for free in any theme currently. She's only allowed in two of Cryx's 6 themes (they have too many, jerks) and she is not free in either. There will be an opportunity cost to taking her and it's a minimum 12 point investment for Parasite on a stick. Plus, aside from Parasite she does not do anything compelling. And her FOC 4 means boosties are needed against practically everything, leaving her bingo on Focus and asking for death. 
Sevy0 stacks up real damn well. His stats are amazing for a solo. FOC 5 alone is powerful, but he's also SPD 6, DEF 15 ARM 15, and MAT 6. Young Sevy was a beast! He has Eye of Menoth which is astoundingly good, Oracular Vision which takes his survivability to great heights, and a decent spell list. And more spells than any Journeyman. Plus, the restriction of taking a Warjack with him doesn't really matter, as it's not uncommon for Protectorate armies to exceed WJP, and then some. One 'jack can pretty easily be slotted on to him.
Overall, I'm praying he makes it through unscathed.  
What theme allows both Sev0 and BoV?