Post by challenger on Mar 31, 2018 22:59:21 GMT
Hello there!
so i've decided to start just generally documenting my games into battle reports. I'm new to grymkin so you'll be seeing my very first derpy experimentation as i flit between "meta" lists and my own builds to try to discover the best builds and how to play them.
To kick it off i had a really great game vs Elara2 Halberdiers i want to share with you. i was running Dreamer with 2x ragers, 2x skin and moans, and 2x rattler for a fairly balanced load out.
He played triple halbs, 2 harpies, 1 siren, 1 chimera, fane knight and double heavy rifle team + some assorted support. My opponent had Issy and Elara and i actually thought this match up Elara vs Dreamer would be super tough as there was no way i was not getting punched in the face ridiculously hard.
I took the Desolation and Fortune's Path Arcanas. Desolation was meant to be annoying to his halberdiers but it never panned out
After his advance move and turn 1 the board looked like this: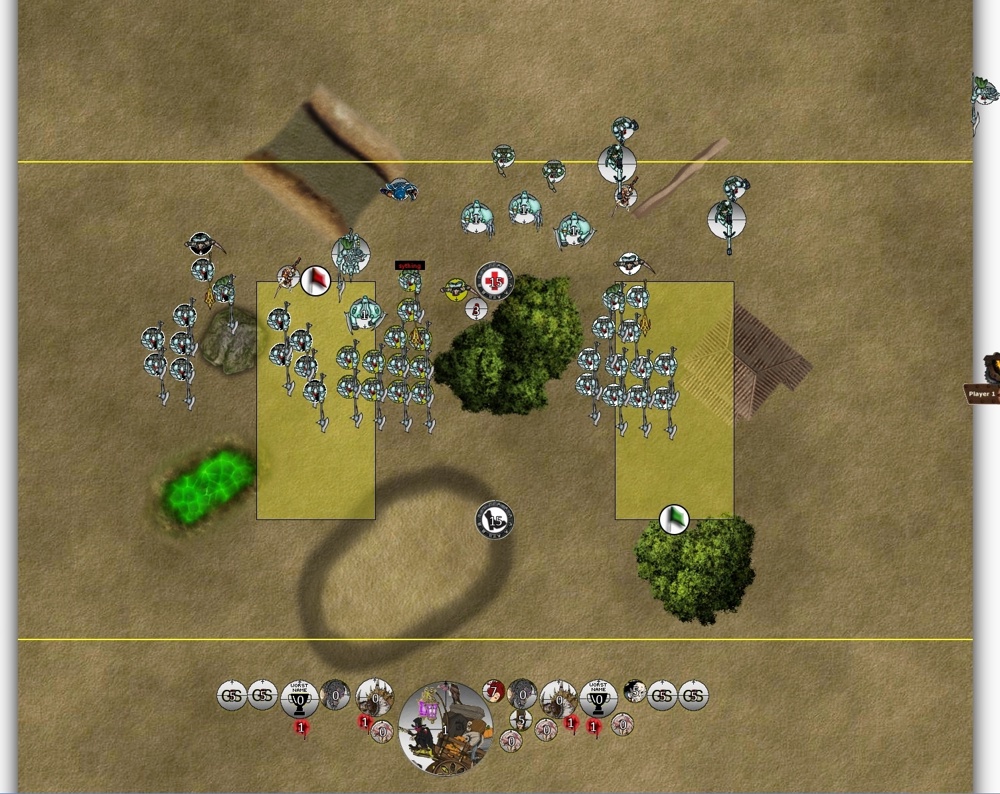 Ouch! even if i stood still in deployment my front line could get skewered by a heap of halberdiers as his entire front line was in range with feat and desperate pace. Elara is there chilling out by his objective.
I moved up super cautiously, the furthest models in my army only advancing just further than 6" out of deployment. i was doing everything i could to minimise the alpha, while also keeping the dreamer's control range away from his halbs to give me Desolation opportunities. I hid the rattlers very deep in my formation, this game going to come down in my eyes to a rattler living the dream.
Here's my brick formation, ready to meet his sledge hammer of an attack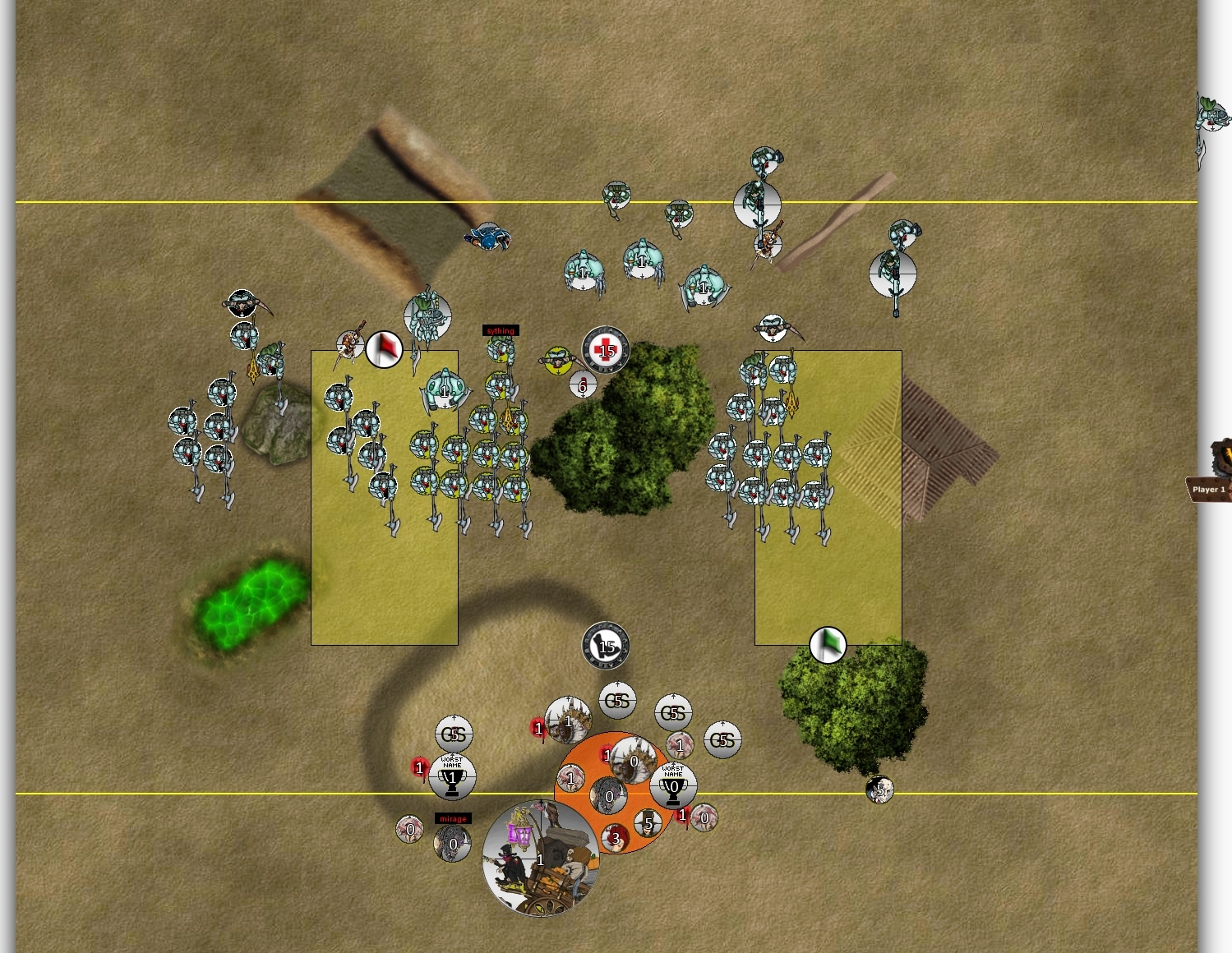 Here i am chuckling about how he'll never find a good landing spot on the right and he just decides to back up and to flank me. i get enveloped by the army surrounding me on the left in a curved line. the only models he has forwards in any kind of aggressive position are 2 halberdiers that are on the flag, just to make it annoying for me to score.
i'm deeply regretting my initial cautious advance.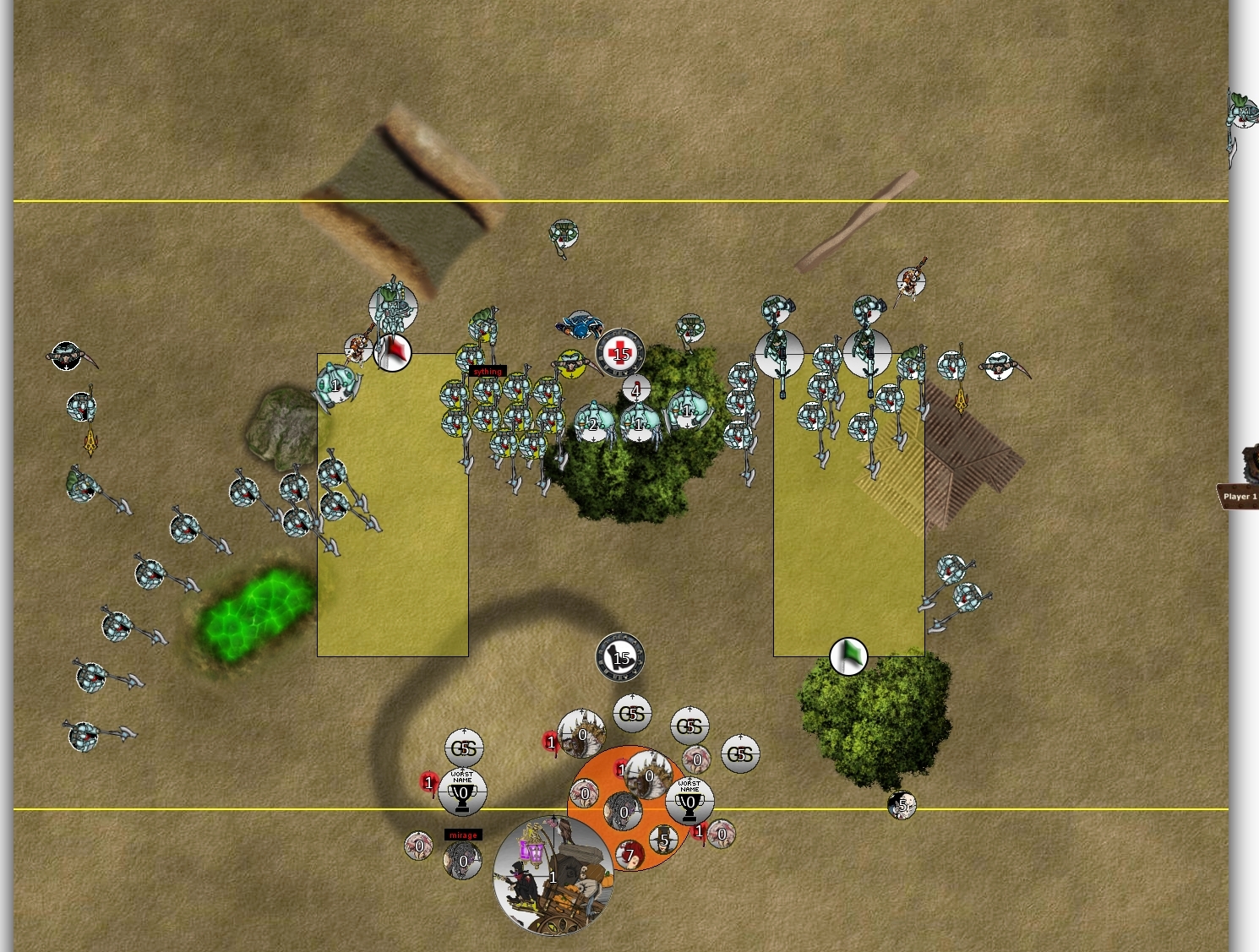 I figure its time to charge ahead recklessly or lose the game on scenario. the worst part of it all was his harpy and siren teams were not in range to do anything particularily useful last turn, but now they will be in range to shoot gremlins and charge heavies. Dreamer uses Wraith Walker to go incorporeal this round
my cage rager runs up within 5" of the middle halberdiers. she then floats through her own models, puts up manifest destiny and enfeebles the middle halberdiers. that -2 to their damage feels super critical against armor 21 ragers, and that mat 8 down to mat 6 feels very meaningful against my skin and memes.
a crabbit goes and eats the juicy halberdiers by the flag thanks to Manifest Destiny and it spawns the cute little phantasm which shows how cute it is by running to hug the right halberdiers. a single gremlin swarm runs to contest because i have to be as annoying as physically possible when playing with swarms. my glimmer imp goes onto my flag and takes the score to 0 ret, 1 grymkin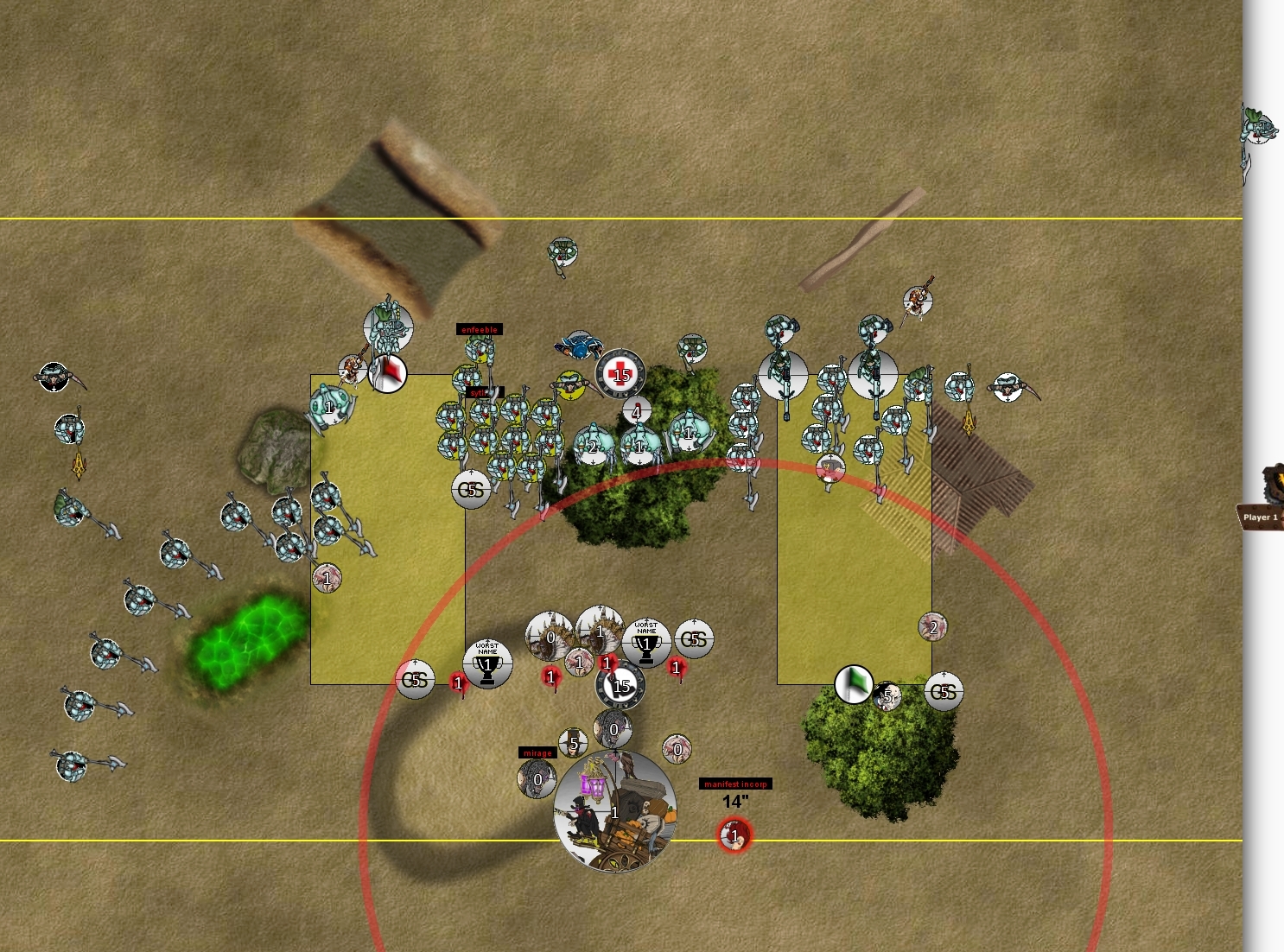 Its go time for my opponent. my skin and memes on the left gets thunderbolted twice and i don't bother shield guarding it. the halbs then slam into me. Despite taking a massive series of charges i never felt like i had a great chance to trigger Desolation
my cage rager took the entire unit with scything blow on one of its members. After their mini feat and enfeeble they were effectively mat 6, P+S 14 (adding scything to their pow). my opponent barely scratched the cage rager, taking only about 1/3 of his health with 8 charge attacks (!!!) Being at dice -7 instead of -5 made a staggering impact
his heavy rifle teams aimed and shot the cute phantasm, a serious crime against cuteness.
then his siren went in on my skin and memes on the right and went base to base so even if i triggered desolation for a forest the halbs would still have easy LOS and it took about half the skin's health off. the right halbs charged, turning the skin and moans into mincemeat and moans. they also charged my glimmer imp but missed, as only a single mat 6 model went after him
During this, i gave up on Desolation mattering and just triggered Fortune's Path
His charges on the second skin and moans took it down to a single box remaining(!!) my second beast to get a bit lucky this turn.
After his turn, the score went 1-1 grymkin to ret
Take a look at this mess: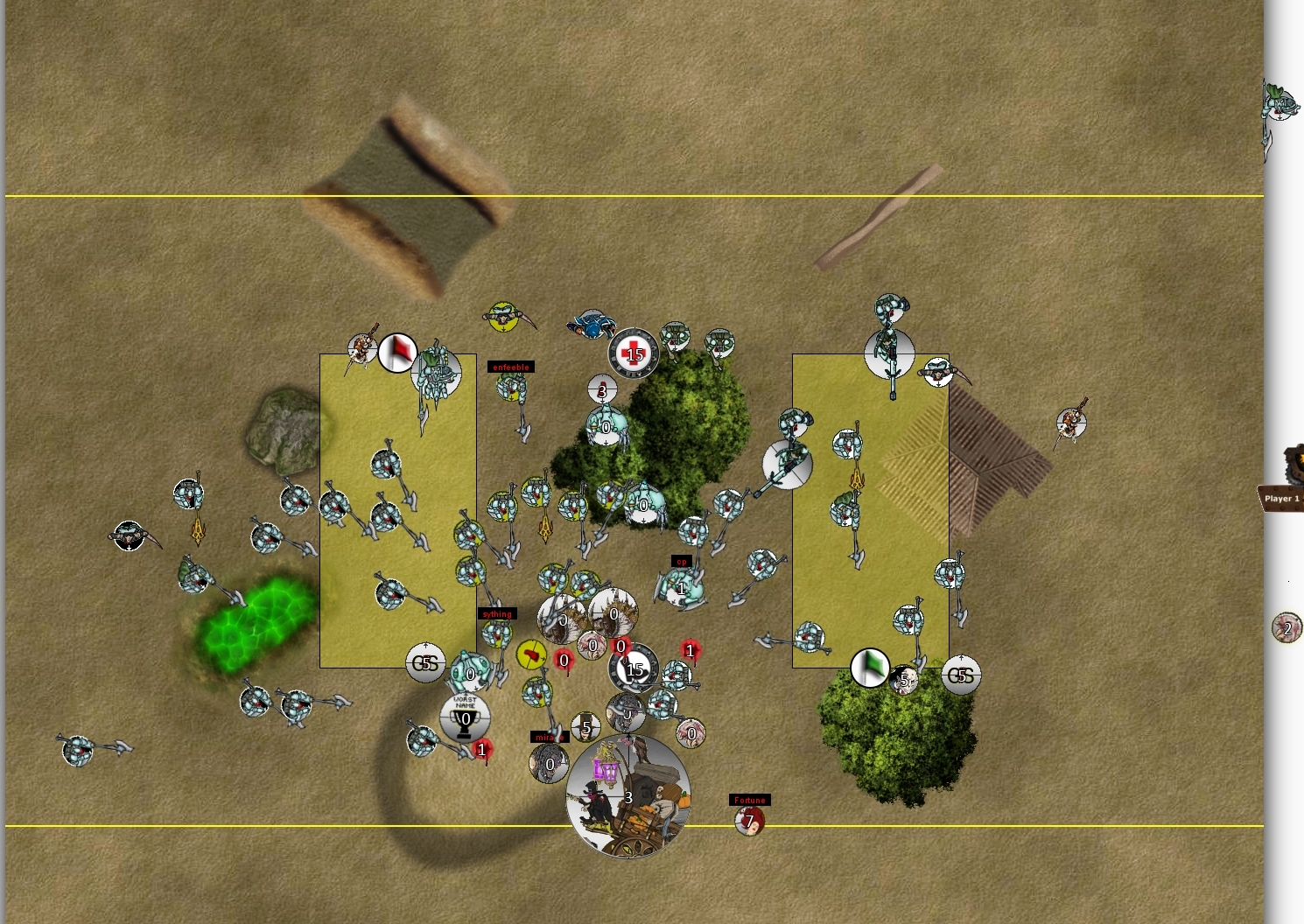 This really put me in the think tank. i figured i needed to do some insane damage to his list, double quick! Dreamer puts up Manifest destiny and heals the skin and moans for 2 points. i neglected a chance to shoot at one of the few nearby halbs just to stationary them. two brave halberdiers are dragged down and killed by a crabbit behind them like something out of monty python
Skin and moans activates, eating some models around him and the chimera. he healed 4-5 times and rolled 3 and 2 nearly the entire time taking him from 3 hitboxes up to 14 boxes for 11 points of healing.
It was go time for the rattler. This is where the game went from a standard match into me being shocked and horrified as i watched a rattler eat halberdiers like popcorn. it killed thirteen halberdiers with its initial attacks. the last four of which were out of my control range so was done without Manifest destiny and with no way to buy or boost. There as a chunk of the board that was now just empty of all life. i should also mention he took two free strikes during these shenanigans but due to enfeeble + the armor buff from the death knell he only took 4 damage all up and even that was more than expected
lady karianna rose rages one of the cage ragers and it moves up and kills both the harpy and the siren, as Fortunes Path + Manifest Destiny + Enrage will tend to make it do. This spawns the cute pumpkin phantasm
my second rattler eats its way through four halbs including the officer, and the heavy rifle gun + its grunt and the halb standard bearer for a 7 model kill activation. it put up countercharge for fun. my other crabbit eats a halb, my glimmer imp scoops a halberdier eye out, spawning the tiny phantasm.
Finally my other cage rager moves up and kills his harpy dead. the death knell moves up and refills the skin and memes who ate all its corpses and my gremlin swarm runs to contest his flag. Without swarms i'd be seriously hosed on scenario when he took the board so aggressively
No one scores anything this round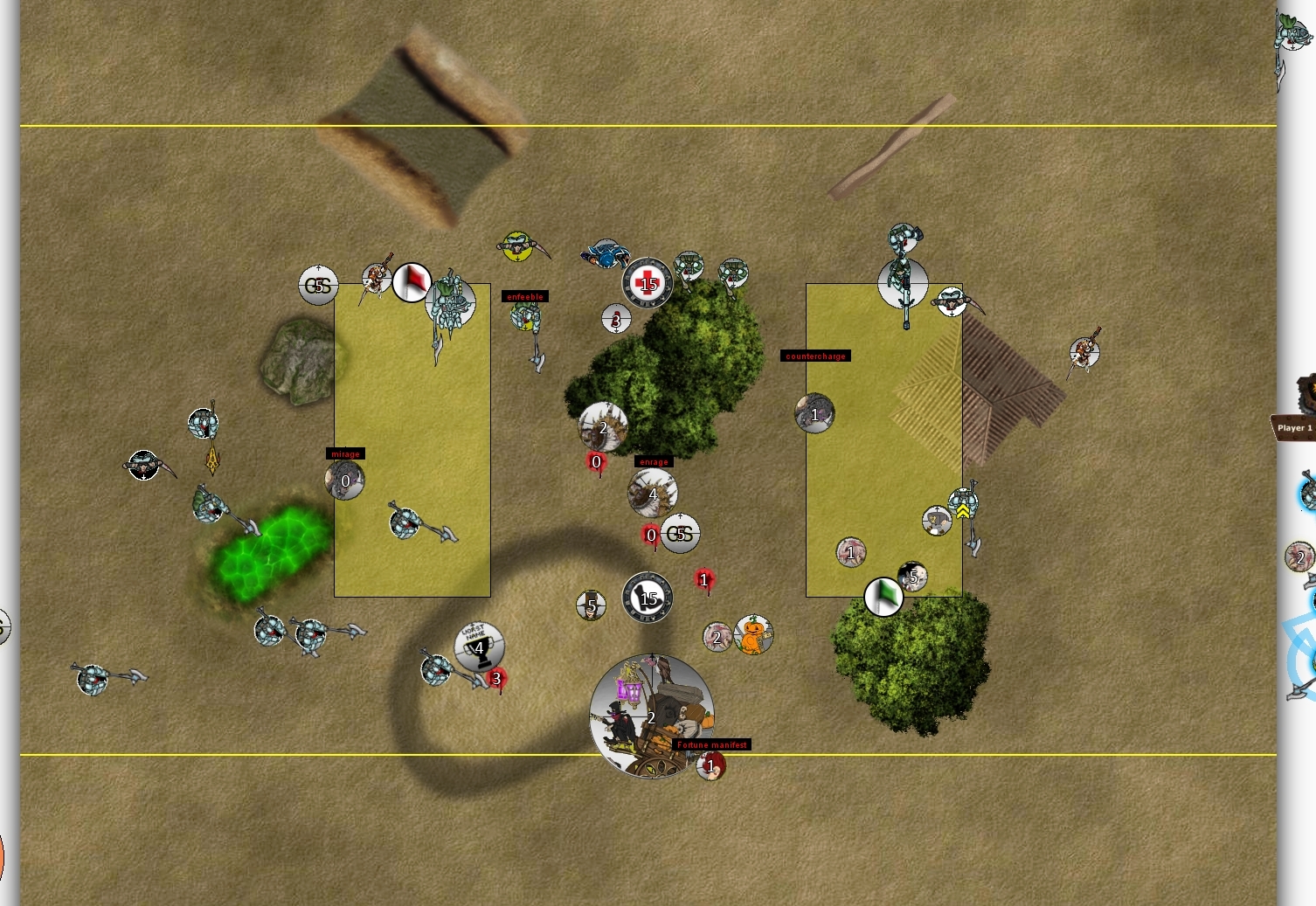 My opponent is convinced the game has ended, but wants to play on and play to his outs, which he believes is scenario and assassination.
Elara charges and kills my rattler with scything touch before teleporting to a safer position. o7 i salute my hero rattler who ate an entire army by himself. the fane knight removes my gremlin swarm because it has to, magic weapons are now in short supply for his side
his halbs charge my forces, with a decent amount of them focused on the skin and moans and it falls down to about 6 boxes left, its 13 def very critically saved it from an extra hit. his heavy rifle team blows a hole through my rattler.
--no photo this turn as i'm not sure if lormahordes has a photo limit, need to check on this later--
on my turn i'm faced with some serious fury problems. i choose to leech from my cage rager and my skin and moans, and take frenzy checks on the other rager, 2 crabbits and a rattler and they all frenzy. the cage rager kills the gremlin swarm that was trying to calm it down, the crabbit bounces off the pumpkin phantasm. the other crabbit kills my cute phantasm
and my rattler kills the souless escort my opponent left in front of it.
Dreamer gets to go incorporeal again this round but i ruin that pretty quickly by using her gun. i move her up and shoot the first of the halb officers, missing him. i use future sight to boost and land a crit. he walks closer to the skin and memes and kills another halb. This spawns the cute little phantasm. dreamer then reloads and shoots the officer in melee with my cage rager and rolls 5,5 to hit, critting him too. he walks down to join the skin and moans party and kills the standard bearer. Dreamer puts up Manifest Destiny because i need to spend my fury or i'll get another turn of frenzying
skin and moans eats all three of its corpses to heal 5 damage and then starts swinging. he kills five models and eats them all. by the time hes done hes gone from 6 boxes back up to 16 boxes. my cage rager kills his objective to even out scenario. Lady karianna contests his zone and the cute phantasm contests his flag. my glimmer imp goes and scoops the eye of his houseguard thane that was sneaking around. the medium phantasm sits on my flag, and the death knell charges a halb and kills it and hands some corpses off to that skin and moans that has proven to be unkillable.
my opponent concedes, as he can no longer see a way to deal with my list, and i'm one turn away from clearing scenario on the right, and i have three heavies still alive.
Victory to the Grymkin!



my thoughts:


On my Arcana

-Desolation is damn hard to use. You can only trigger it as people enter your control which is a difficult trigger, and the AOE4 may not even be particularily helpful. For me, this is a "more testing needed" arcana and it strikes me as a very skill based one to use effectively.
-All fall down gets used as often as i always use it, as in i don't use it. i think i would have actually used it vs something like a decently defensed beast attacking one of my models because the knockdown becomes very high quality, and especially if the model has something like countercharge. So bad match up for this arcana when its just a bunch of low cost infantry doing the killing
-Fortune's path seems like a great "generic arcana" when you don't explicitly need a counter tech like Ruin. One thing i was struggling with in previous games was having an arcana to use that wasn't so specialised. the opponent cant really play around Fortune's path because its trigger is so easy, and its effect is very strong.
-I really missed sacrifice this game. I thought my opponent running a strong melee army would give him the ability to focus fire my heavies down one at a time, but the reality of dice, and positioning 36 halberdiers made it actually way more difficult than i thought. Sacrifice is definitely coming along for the ride in almost all my games at this rate.
-Pandemonium would be really effective in a vacuum but its trigger relies on the officer being in my control range which is super hard to achieve. glad i didn't take it as it would have never gone off. Although in theory wraith walkered dreamer with shield guards and arcane vortex heavies can play pretty far up.
On my List

-Rattlers are amazing. just to count the raw points of its kills, the first one killed 18pts of halberdiers and the second killed 7pts of halbs and a HRT for 11pts just with their initial attacks. They are the primary reason i do not fear infantry spam, its absolutely glorious. I only wish i could take more.
-Cage Ragers were a bit derpy to me on paper being slow models compared to Skin and Memes, but i'm starting to really appreciate them more. Even when i didn't need arcane vortex having them pay for my upkeeps made dreamer so much more flexible.
-Skin and Moans are way better into infantry than i gave it credit. That one skin and moans went down to one box and from there healed around 13-14 d3 which is ridiculous as i just kept feeding it corpses and models. it became a massive sink of my opponents halberdier resources to just keep bouncing off it. either you kill a skin and moans or you don't bother with infantry!
-The little phantasm is so easy to spawn, and barely useful beyond a rat bump for dreamer. But then i realised i can spawn one/turn and just keep running it 14" at the opponents flag and zone and it became an amazing contesting tool. its very interesting that spawning it is also spot RFP, meaning any model you have can kill something vulnerable to RFP like certain unit leaders
-Dreamer is incredible. her toolkit is so flexible despite having such a small list of spells.
On the Match Up:


I was really worried going into it due to that many infantry charges into just a few heavies. But afterwards i feel actually surprisingly confident. Next time i can even potentially try playing more aggressive with something like pandemonium and sacrifice as my setup and using a wraith walkered dreamer with shield guards to stand in very aggressive spots to threaten to deny a whole unit their charge which when coupled with enfeeble on another is insanity!
Great game by my opponent, had a lot of fun and absolutely fell in love with rattlers all over again, even if i never got to spawn the cuddle monster (large phantasm)