Post by Lanz on Mar 14, 2018 0:10:57 GMT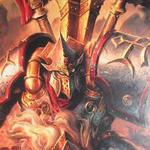 Sprays and such will be largely unaffected because they are high pow enough to kill single wound infantry with even only a single damage die.
Zealots and Cleansers are getting totally hosed by this change for example. And they weren't great to begin with.
PP will now need to do a complete redesign of everything that has Immunities simply because they've altered the value of the ability, and anything that was costed with that ability needs a rework.
You happen to play one of the only factions that has a unit really effected by this, so you're blowing it out of proportion. Most models with elemental immunities don't necessarily hinge on them for survival. Zealots and Cleansers do only because they can hit themselves with their fire attacks. For everyone else, their immune units either don't hinge on immunity to function, or they are more likely to face attacks they aren't immune to anyways.
You want to make the case that Protectorate gets the short end of the stick here, sure, by all means. And I think you should take advantage of your upcoming CID to make some noise about these units. But don't pretend this has massive negative impacts to the whole game. Most models with immunities won't need anything close to a 'complete redesign'. Arguably even the most egregious example just needs one rule and they're fine.
Basically. Cleansers just need Clear and they're good.